The One Condos in Toronto | Plans, Prices, Availability
Condominium
Property Type
2 Beds
2 Baths
1352 SqFt
$1,979 Per SqFt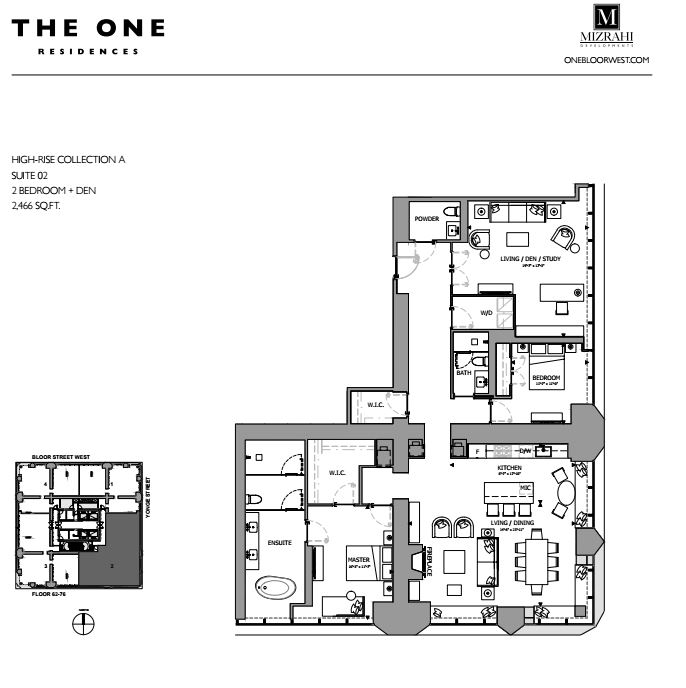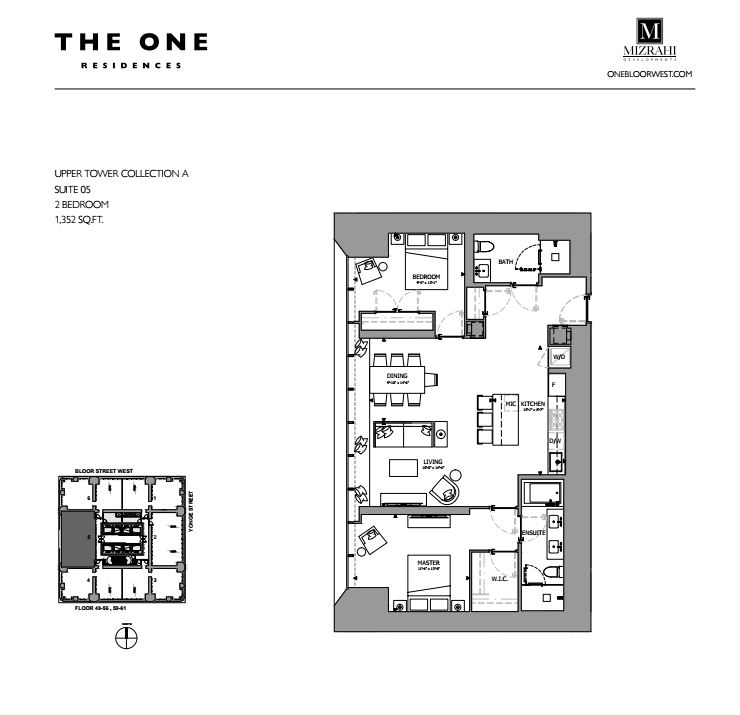 2.5 Beds
2 Baths
1502 SqFt
$2,475 Per SqFt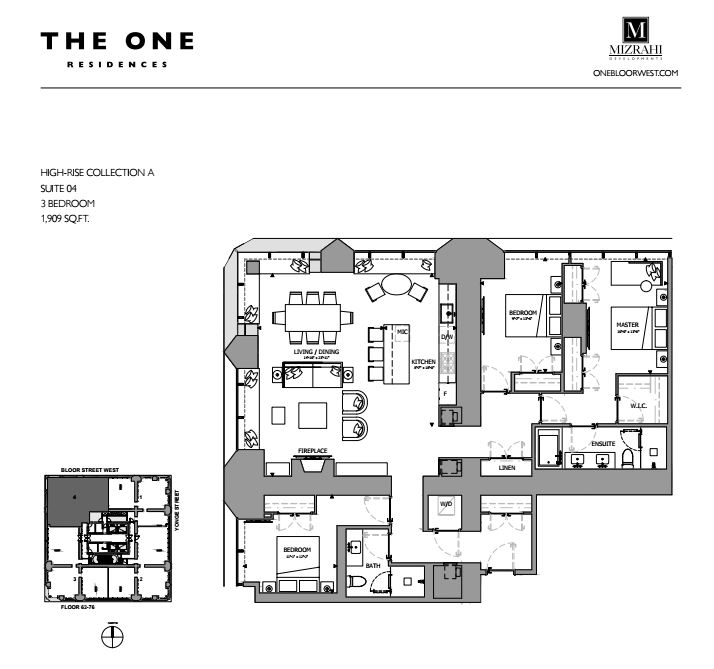 2.5 Beds
2 Baths
2466 SqFt
$2,864 Per SqFt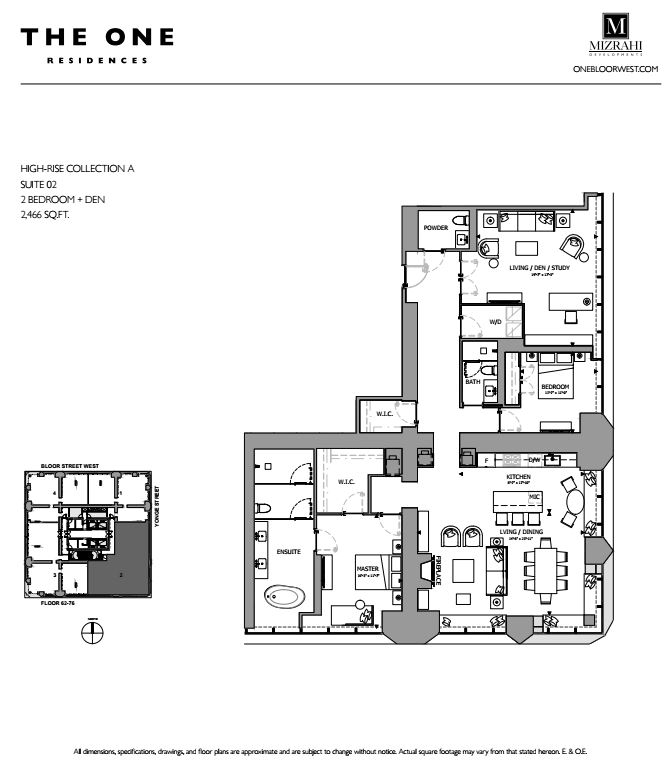 3 Beds
2 Baths
1495 SqFt
$2,113 Per SqFt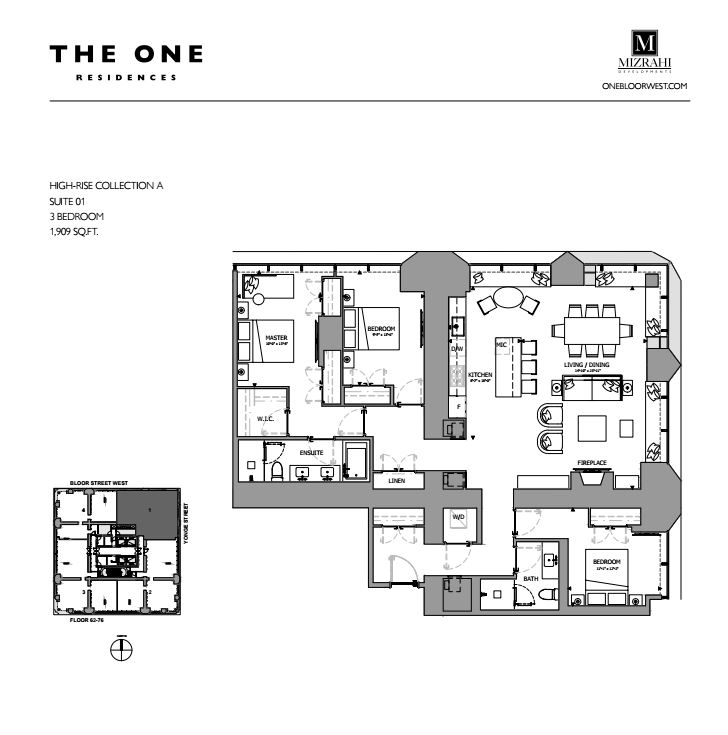 3 Beds
2 Baths
1495 SqFt
$2,113 Per SqFt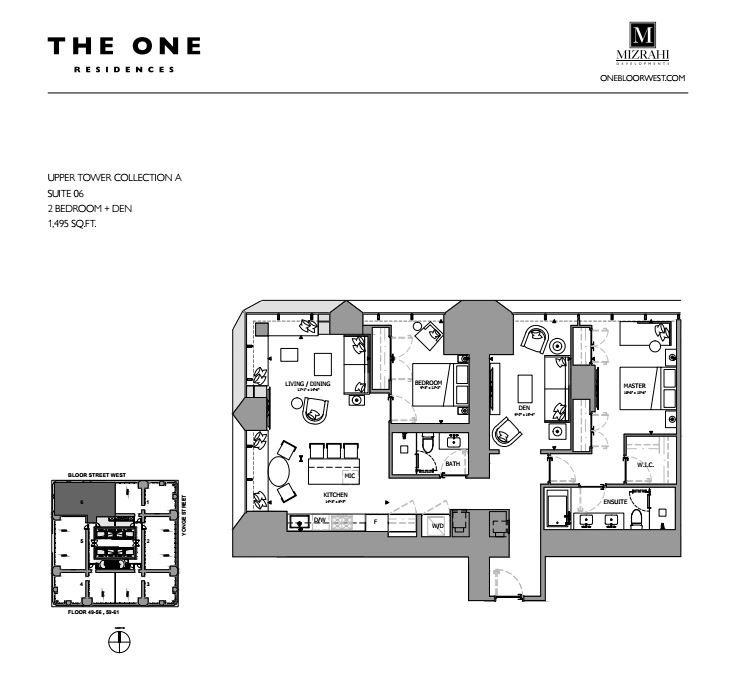 3 Beds
2 Baths
1499 SqFt
$2,504 Per SqFt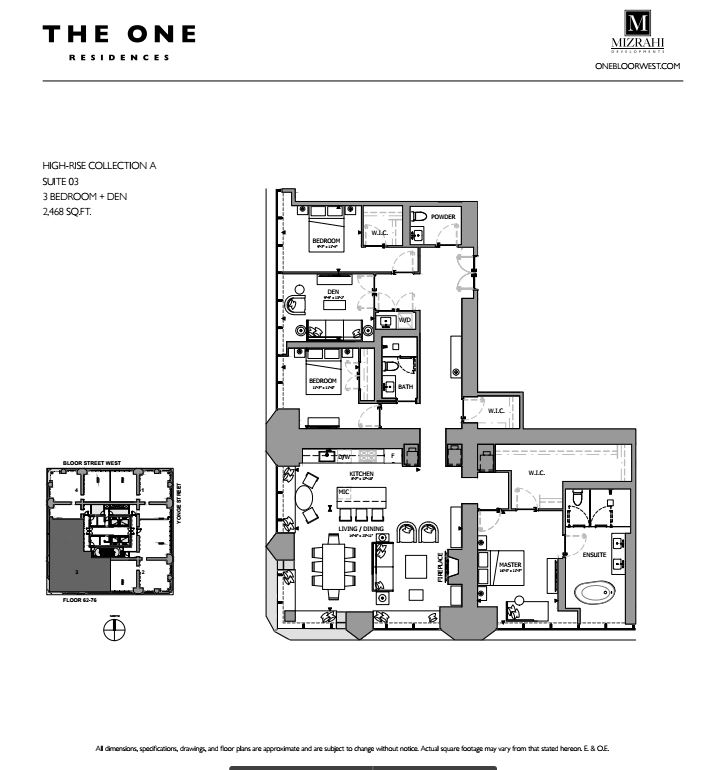 3 Beds
2 Baths
1909 SqFt
$2,596 Per SqFt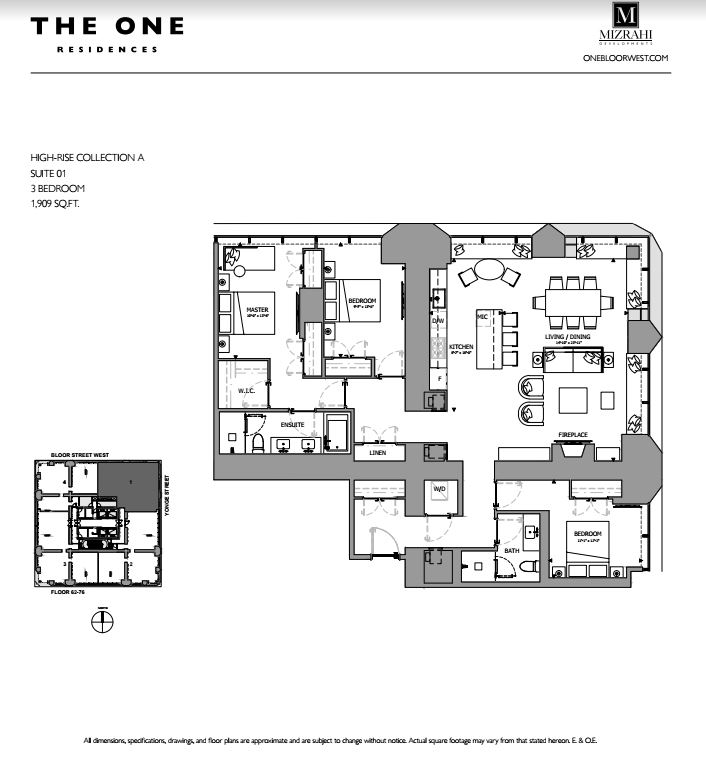 3 Beds
2 Baths
2468 SqFt
$3,002 Per SqFt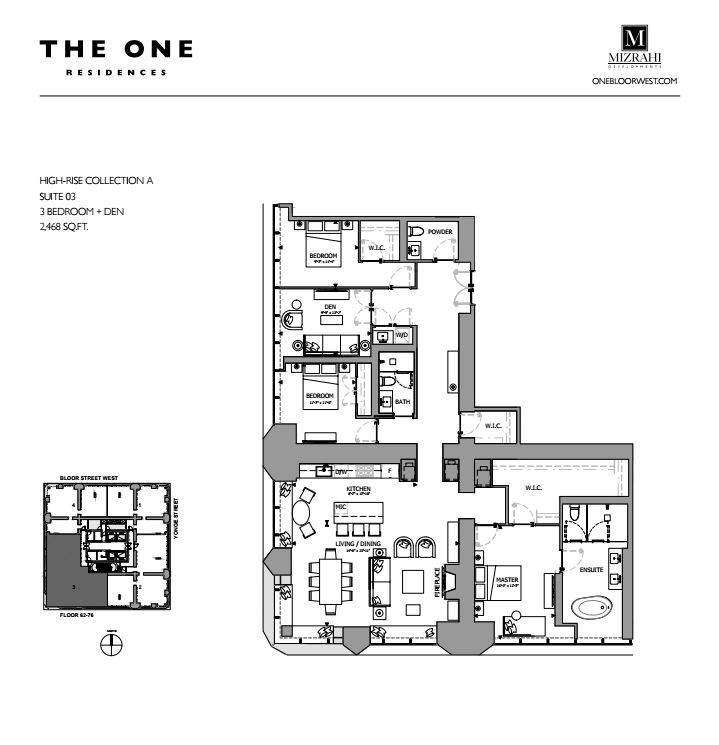 3.5 Beds
2 Baths
1909 SqFt
$2,596 Per SqFt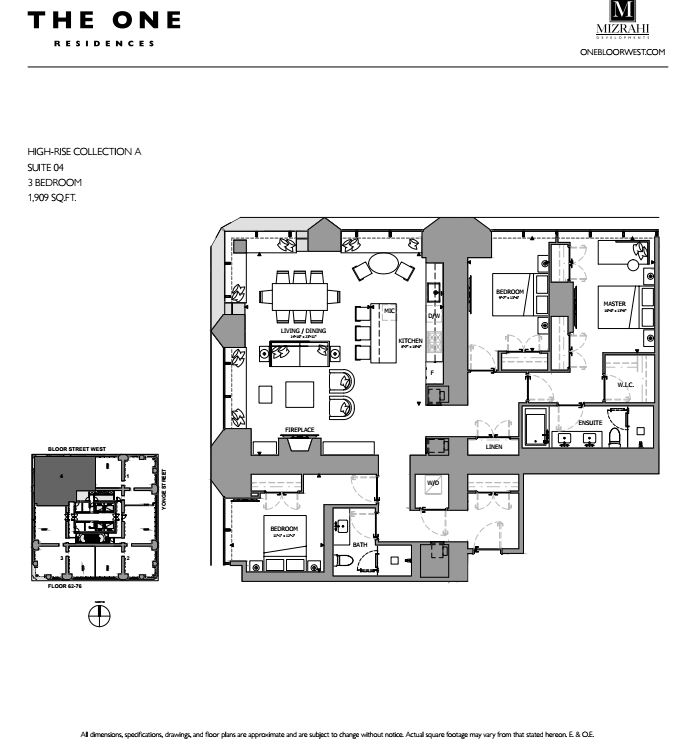 Facts and Features
Building Type
Condominium
Est.Property Tax
0.7% of the price / year
Architect (s)
Norman Foster/Core Architects
Maint.Fees
$0.93 / sq ft / month
Construction Status
Pre-Construction
Selling Status
Now Selling
Builder (s)
Mizrahi Developments
Apartment Specification
Total Number of Suites
416
Suite Size Range
1352 - 6137 sq ft
Price / sq ft from
$1,979
Amenities
State of the Art Gym, Pilates Room, Spinning room, High Definition Golf, Billiard, Sports Area, Sky Gardens, Winter Garden, Direct Subway Access , Year Round Pool, Private Pools, World-Class Restaurants, Flapship Stores, Terrace, Valet
Important Dates
Est. Occupancy
Spring 2023
Public Launch
Nov 21, 2017
Deposit Structure
Deposit Notes
$20,000 on signing Balance to 5% in 30 days
5% in 90 days
5% in 180 days
5% in 360 days
5% on occupancy
International Deposit Structure:
5% on signing
10% in 90 days
10% in 270 days
10%in 360 days SweetHome Real Estate Company
10 Atlantic Ave, San Francisco, California, CA 93123, United States
The One Condos Description
The One is a new condo development by Mizrahi Developments currently under construction at 1 Bloor Street West, Toronto. Development is scheduled for completion in 2023. Sales of available units range in price from $ 2,676,116 to $ 29,921,726. The One has a total of 416 units. Sizes range from 1352 to 6137 square feet.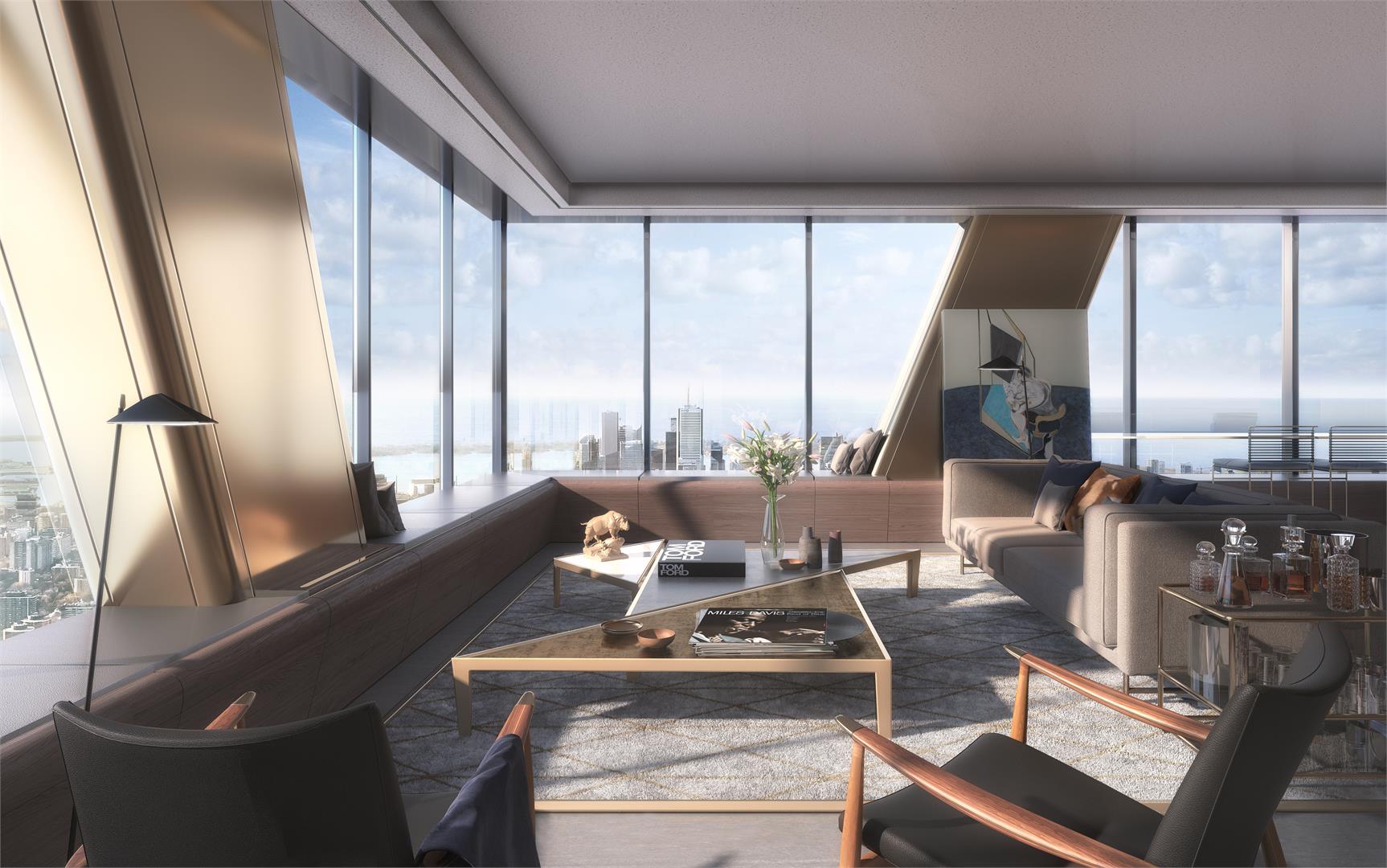 The lifestyle
Expect upscale retail at The One condos. World-class restaurants, fashion centers, and other upscale retail tenants. The One will be a destination at the nexus of the city. Toronto's highest number of pedestrians, vehicles and transit corner, the One will be a destination in the public realm where everyone can congregate – similar to Rockefeller Center.
The One Condos Amenities
Terrace, Valet
Billiard, Sports Area
Direct Subway Access
Sky Gardens, Winter Garden
Year Round Pool, Private Pools
World-Class Restaurants, Flapship Stores
State of the Art Gym, Pilates Room, Spinning room
Welcome to Bloor-Yorkville
The One Condos will transform the corner of Bloor & Yonge and become a splendid addition to the elegance and sophistication that is Yorkville. There are a host of luxury brands along Bloor Street and One Bloor West. The One Condos will be the definition of luxury with excellent restaurants and great entertainment in the building and downtown Toronto.
Explore the city
The One Condos has a PERFECT walk score and a PERFECT transit score that make Toronto easy to explore. DIRECT ACCESS to Bloor-Yonge Station connects residents to the entire city. Exciting events await 15 minutes by public transportation: Air Canada Center, Rogers Center, Four Seasons Center for the Performing Arts, Art Gallery of Ontario.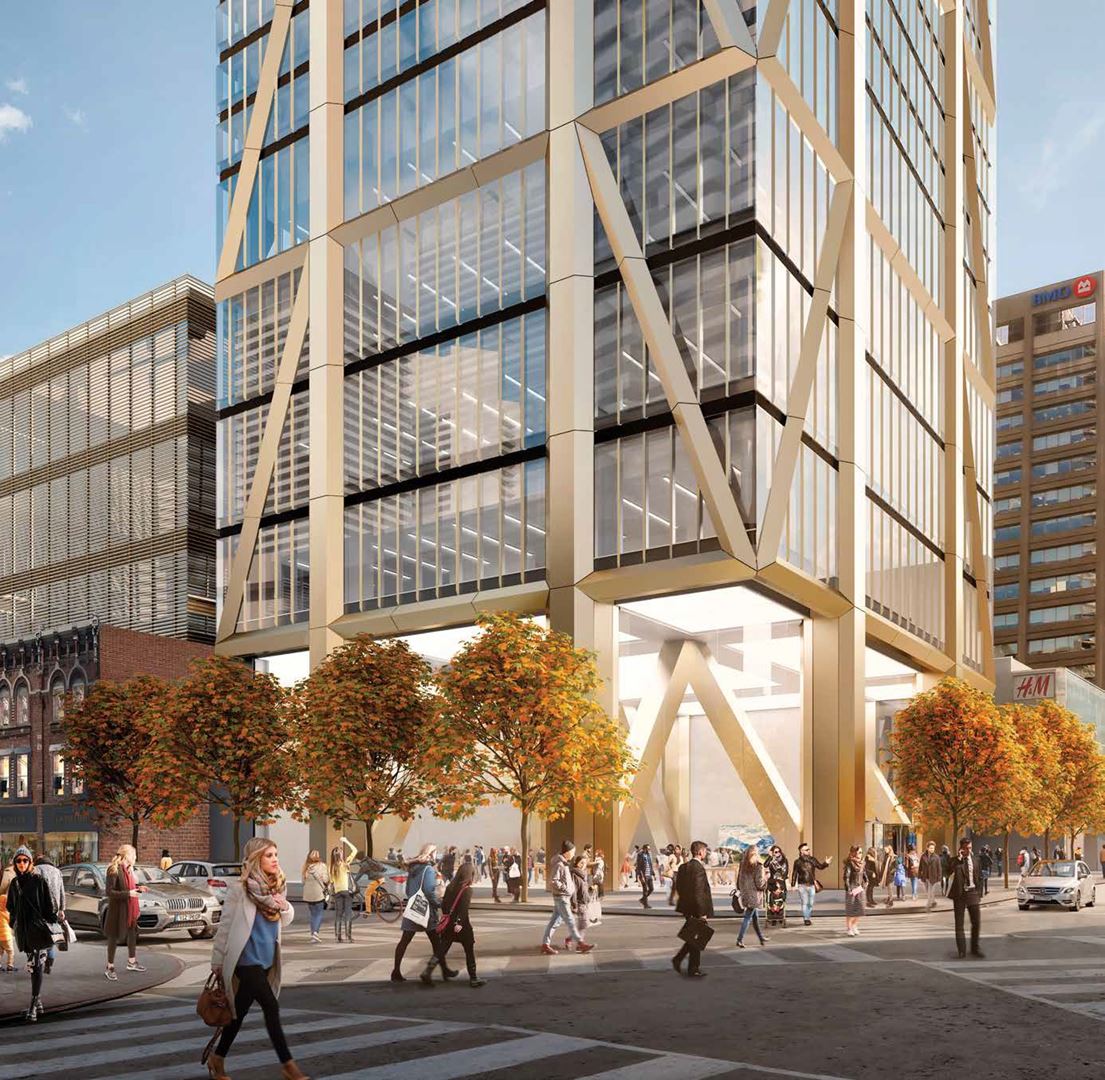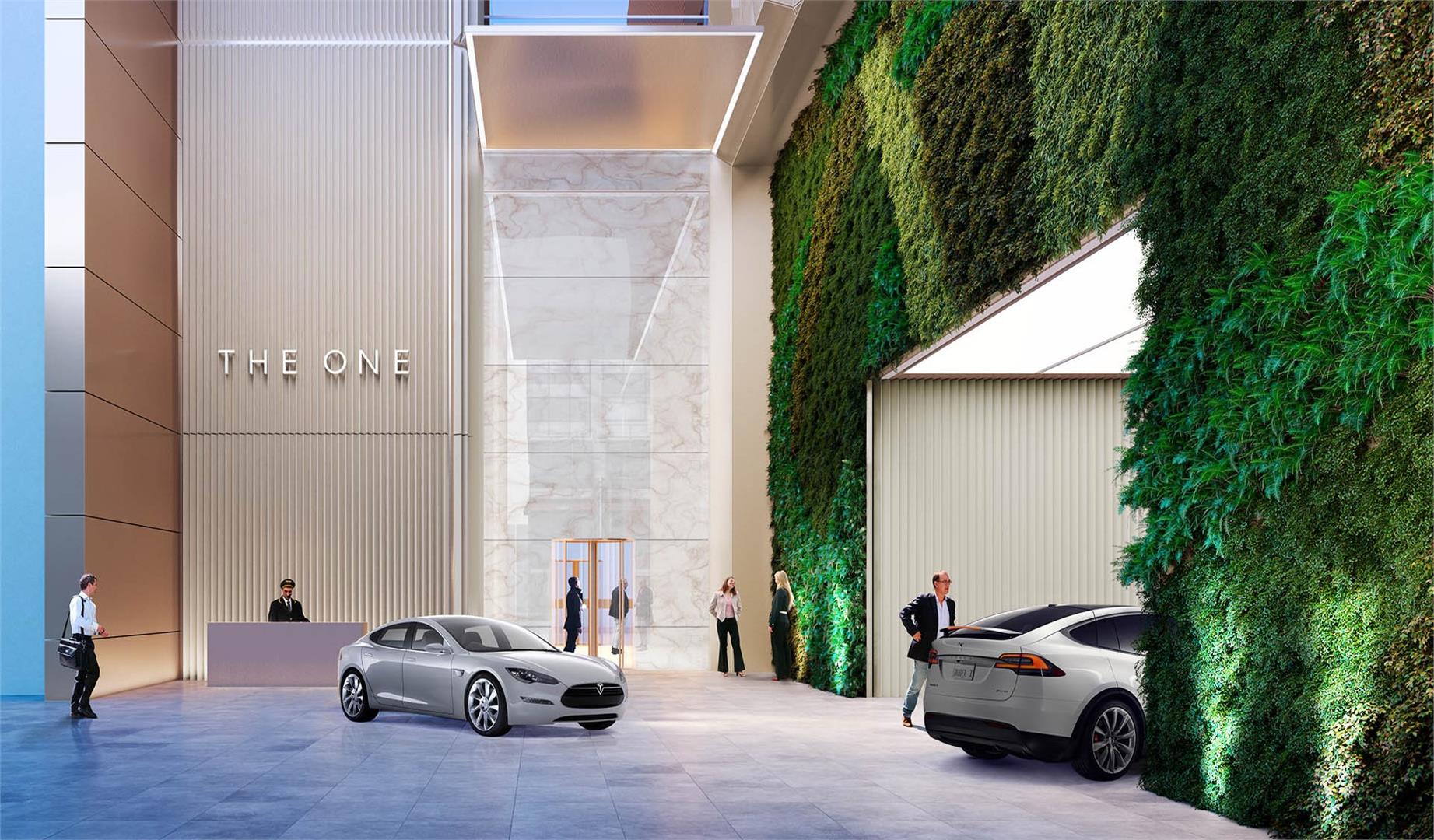 Notable amenities from the area near 1 Bloor St West:
Royal Ontario Museum
Holt renfrew
Bata Shoe Museum
Gardiner Museum
Blu restaurant
Downtown Hudson Bay
The One Condos Features
These 416 suites will become the heart and soul of the city. Standing at an impressive 85 stories tall, One Bloor St West will be transformed into a cultural hub full of street energy and endless opportunities for you to live, work and play.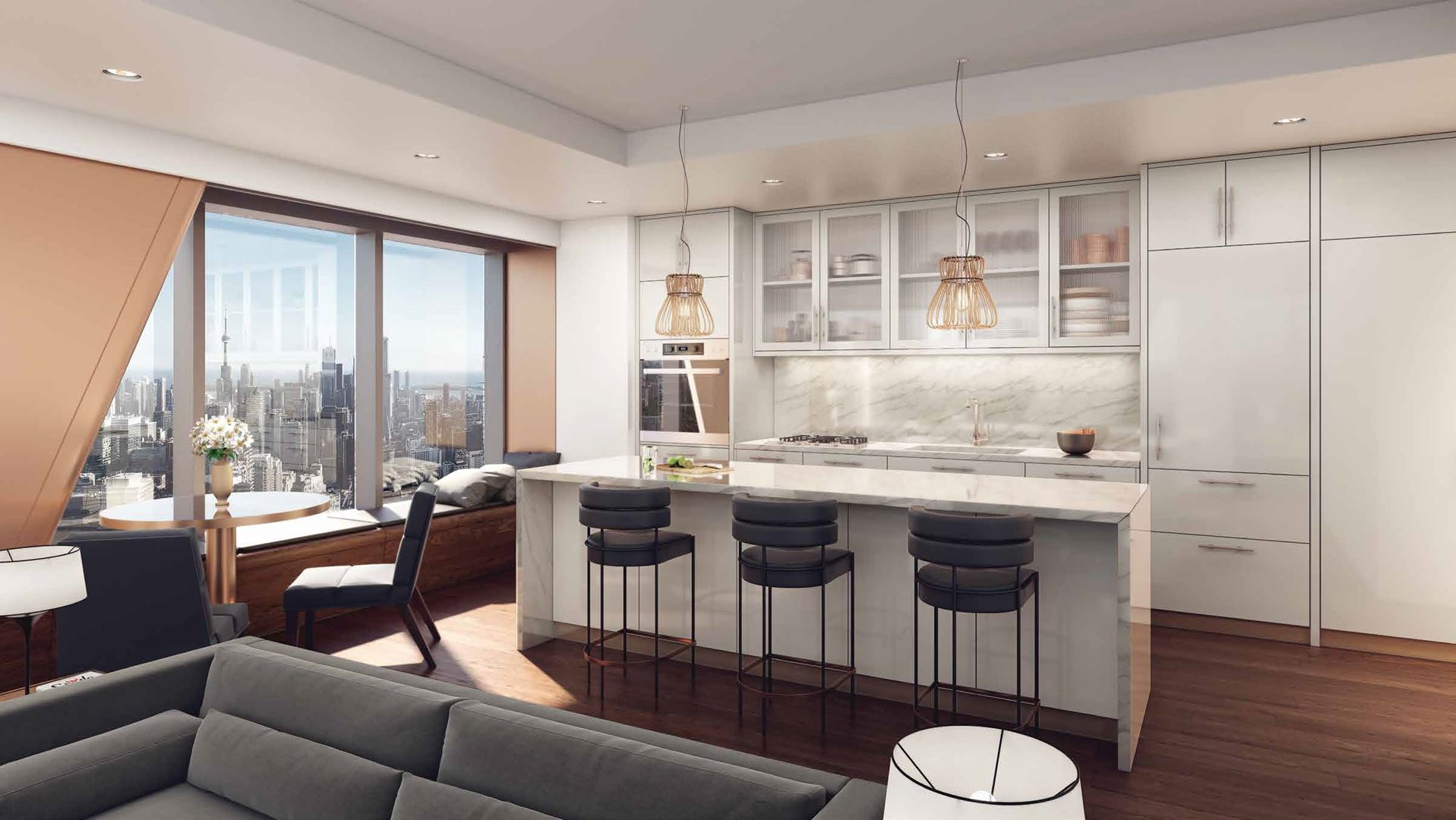 About Mizrahi Developments
A partnership is about values, what you want to achieve and why. Simply put, Mizrahi Developments came about with a vision of several goals to change expectations in the industry. Firstly, it was a desire to enhance the changing streetscapes of Canada with carefully articulated, mid-to-high-rise buildings that give those who work and live in them as much pleasure as those who pass by their exteriors. But just as important as what we build is the notion of how we build.
View more details»
Total cost of loan
{{formatAsCurrency(totalCostOfMortgage, 0, '$', {"currency":"CAD","position":"left_space","thousands_separator":",","decimal_separator":"","characters_after":"0"})}}
Total Interest Paid
{{formatAsCurrency(interestPayed, 0, '$', {"currency":"CAD","position":"left_space","thousands_separator":",","decimal_separator":"","characters_after":"0"})}}
Payment
{{paymentSelection}}
Mortgage Payment
{{formatAsCurrency(payment, 2, '$', {"currency":"CAD","position":"left_space","thousands_separator":",","decimal_separator":"","characters_after":"0"})}}
Year: {{ graphSelection.year }}
Principal: {{ graphSelection.principal }}
Remaining: {{ graphSelection.principalPercent }}